Every November we kick off one of our favorite times of the year at Look, WarmUP & FillUP! Our annual food and sock drive. Through the hard work and generosity of our homeowners, trades, building partners, communities, and the Look family we are privileged to donate to the Edmonton and Calgary Food Banks and The Hope Mission.
Every year we set a new goal and every year the kind and generous hearts of Calgary, Edmonton, Leduc, and Beaumont exceed our wildest expectations. Last year we were able to share 2063 lbs. of food with the Food Banks and 2229 pairs of socks with The Hope Mission.
If you would like to participate this year, our head office in Edmonton and all of our showhomes are accepting donations until Friday December 15, 2023. See our donation locations. Check out our social media for updates!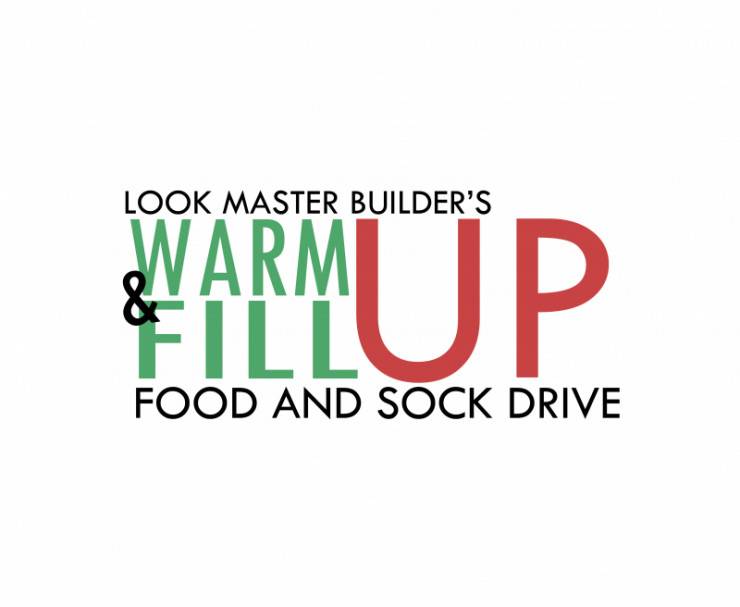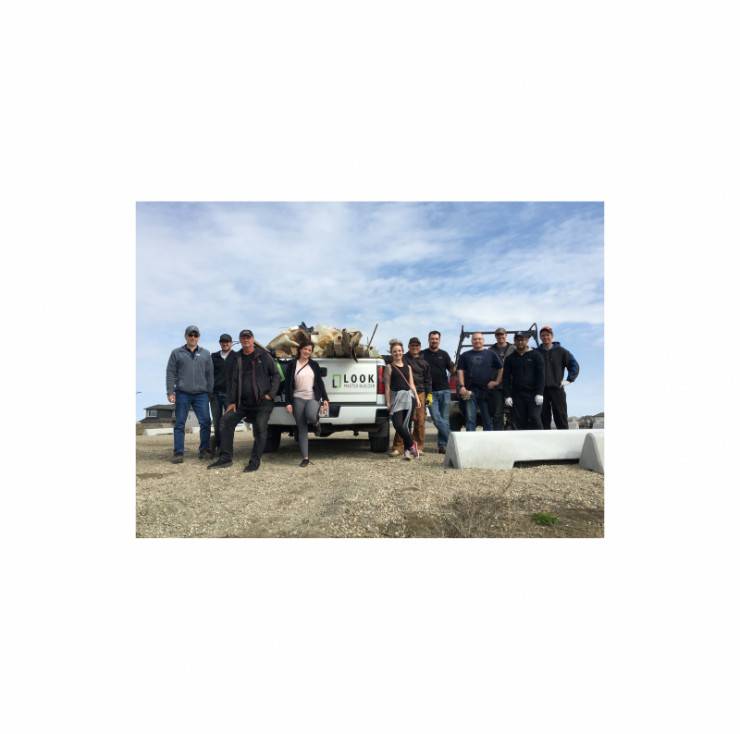 Teaming up with our homeowners, building partners, bank reps, developers, and more the clean ups each year are always a success. We had the largest turnout of volunteers last year at our clean up and couldn't be more proud of all the hard work and time that everyone put in. We also know our homeowners are always grateful to see the improvement! We collected a total of over 200 large bags of garbage in Black Stone, Ruisseau and Maple Crest. This is an important tradition of ours to respect and show love to the great communities that our homeowners call home. After the cleanup we relaxed and enjoyed a BBQ as a way to say thank you to our volunteers for their support and valued relationships.
Last year our volunteers included Divine Flooring, Black Stone Community in Leduc, Jennifer Kwan BMO Mortgage Specialist, Exalt Ltd., JDK Heating & Cooling Ltd., Blue Sky Framing, Park Lighting & Furniture, Nathan Cranston, Zeebee's Siding, Sherri Herman-Real Estate, All Star Landscaping Services Ltd., Gem Cabinets, Gemco Fireplaces, Pals Geomatics, Ardent Roof Systems Inc., Klutch Construction, P&F Concrete, Maple Crest, and Weiss-Johnson.
If you are interested in volunteering next year we welcome everyone, stay tuned to our Facebook page.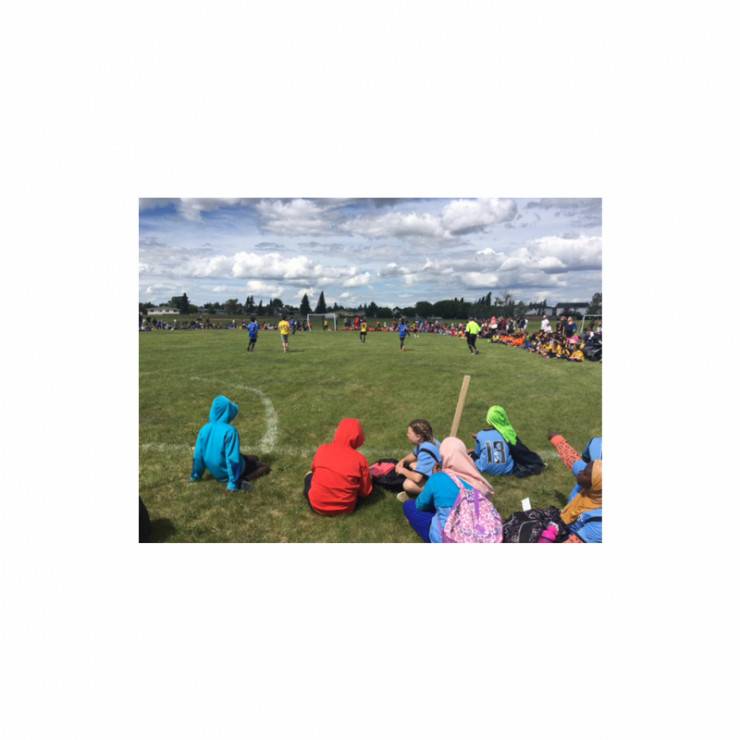 Free Footie Edmonton is a program that gives underprivileged children the opportunity to be part of a team and play soccer. This year our Look Mater Builder Team made it to finals! We supplied the funds for their equipment and the kids supplied the hard work and dedication. We are so proud of them!
With an immense amount of passion for his community and the strong will to create opportunity for underprivileged children, Tim Adams began a basic soccer program for a few junior high classes. Seven years later, this program has swept his community and is now a 30 team league that is 100% free for kids in elementary and junior high! Our team is inspired, moved and motivated by Tim's efforts and the smile on those children's faces. Each year we jump on board and become a foundation sponsor for multiple teams. We are so grateful to have been brought into these children's lives and will continue to support Tim and his teams!
For more information about the Free Footie Foundation and how you can help, click here.
Look Master Builder Inc. and Stepper Homes are enthusiastic supporters of the "Revving Up for Kids" motorcycle tour. Held in late June each year, the ride has become a major source of sponsorship, with nearly $2,076,000 raised since 2006 and over 1 million kilometers travelled!
For three days each spring, a growing number of motorcycle enthusiasts from across the province convene and share their enjoyment of the open road. Riders pay a registration fee and generate a minimum sponsorship of $1000 in order to participate. The bike route possesses a challenge to all the riders, often demanding 400 – 600km be covered daily in order to reach destinations in British Columbia or Montana before returning home. Far more than a simple motorcycle ride, "Revving up for Kids" is an opportunity for friends, colleagues, and business associates to focus on a common cause for the weekend. Stopping at dinners, attractions, and related events in both Calgary and Edmonton provide the participants with a very welcome opportunity to share a few laughs, raise additional funds, and socialize with the children and their families. By the end of the weekend, a tired but inspired group of riders return home to points across Alberta.
Now, with over 50 bike participants annually, the ride generates an optimistic number of donations and these funds are directed entirely to the Kids with Cancer Society. For more information on how you can donate to this great cause click here.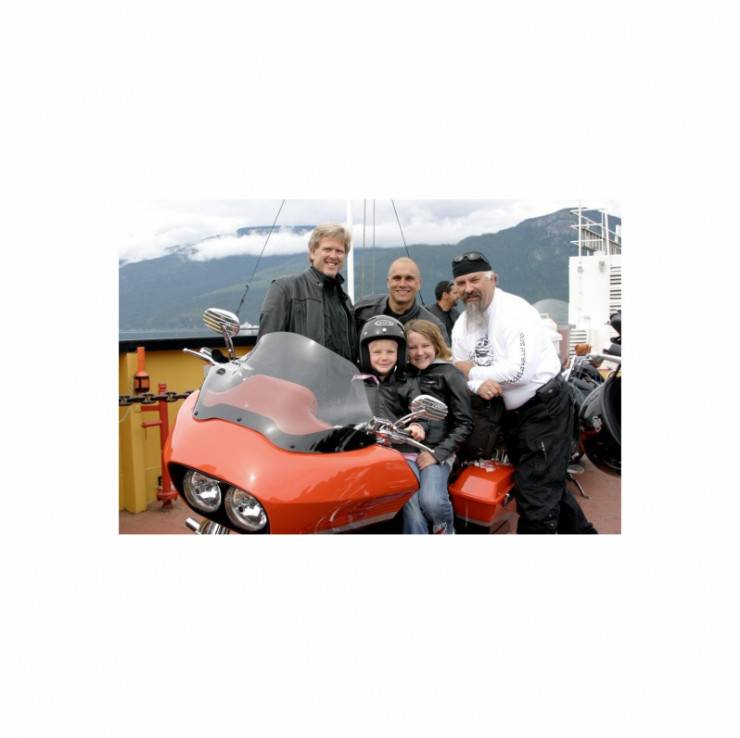 As the name suggests, the Parade of Heroes provides Look Master Builder Inc. and Stepper Homes an invaluable opportunity to spend time with true heroes the children involved with the "Kids with Cancer Society".
Since its inception in 2006, the Parade of Heroes has provided children battling cancer with an annual opportunity to experience the thrill of riding on motorcycles in a safe and festive environment. Motorcyclists spend an afternoon parading each young passenger around Edmonton's Hawrelak Park and visiting with the child's family members whilst enjoying a sponsored BBQ lunch. One of the high points for the Look family is seeing the expression of extreme joy and excitement in the eyes of each child and the awing reactions of those surrounding. The children are so genuinely thrilled by the experience, even the burly bikers have a glistening tear in their eyes when the day is over. None the less, each and every year the children innocently bestow all around with an overwhelming amount of happiness, gratitude and love.
Above all, we aim to have the Parade of Heroes provide a sense of respite for both the children and their families, and an ever lasting memory in their hearts. We thank each participant for braving day in and day out and inspiring us all in our own lives. You truly are our heroes.
Operation Christmas Child
Our team takes great joy and warmth in having the opportunity to participate in an incredibly giving charity adopted by The Samaritans Purse organization, Operation Christmas Child. This program focuses on enhancing the lives of those children in need, those who cannot afford daily necessities or toys to play with that we are so fortunate to have at hand, especially around the holidays. Aspire Networks Inc. first introduced this charity to us for Christmas 2012 and we happily jumped on board and participated. Thank you to our friends and family who also joined in and helped spread the joy of a smile!
For more information about this great program or to learn how you can participate and pack your own box, click here.
"Kick in for Kids" is a sports equipment drive that aims to gather a minimum of 500 sports items to distribute to under privileged children in our community. This wonderful fundraiser is locally organized through Sports Central and each year joyfully allows many children a chance at participating in an array of sport activities. Look Master Builder Inc. proudly sponsored several children's soccer teams with jerseys, ribbons, medals and managed to be the highest donator for a large charity package in the "Kick in for Kids" fundraiser auction! This rewarding fundraiser allows our team the opportunity to give back to the community by putting smiles on the faces of children around us and shining a new light in their lives in every aspect we can.
You too can give underprivileged children the simple gift of participation through supporting Sport Central's various fundraising events. Please visit their website for further details. http://www.sportcentral.org/
"Building Cures for Kids" Home project
Successful cancer treatment in children has been one of the biggest success stories in modern medicine. In 1960 there were very few childhood cancer survivors. Today a child diagnosed with cancer has greater than 75 % chance at beating the disease. However this means approximately 25% of patients either succumb to the disease or live with permanent complications due to severe treatments. This number is disturbing and it takes communities like ours to come together and participate in these fundraiser events to help put an end to the growing disease.
Look Master Builder Inc. in partnership with the Alberta Cancer Foundation, has launched "Building Cures for Kids Foundation". Thanks to the generous support of various suppliers, sub-trades and contractors, we were able to build and sell two beautiful homes! 100% of the net proceeds from the sale of the homes went directly to Pediatric Cancer Research at the Cross Cancer Institute in Edmonton. This Institute is helping to develop new and more effectively targeted treatments for cancer in children. Our family at Look Master Builder Inc. and all of our building partners are honored to be able to participate in such a valuable cause. Not only is this an opportunity to give back to the community that has been so good to us, but also allows us the chance to brighten the light for the children and families of our future.